December 7, 2016
The Great Switch-aroo
Pull off dressing for the after-work holiday party
The holiday season is full of joy, cheer, and best of all, holiday parties. The company parties after work are the best. You have to dress appropriate for work but be festive enough for the party afterward. You're pregnant, exhausted after work, and probably not gonna drink at the company party but hey, it's one of the last chances to go out, right? You can smell the sarcasm. Fret not, we're here to help- with your outfit at least.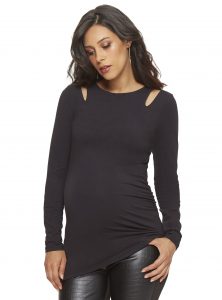 Choosing an outfit that can work for both occasions is near impossible. That's why we start with one garment that will do double duty and build from there. Start with the Double Keyhole Top in Black. Our best-selling top is just that for a reason. Made of Supima Cotton and Spandex, the super soft and super stretchy top has an asymmetrical hemline, shirring on one side and keyhole details at the shoulder. This is your go-to piece for everything.
The key here is to start with a great canvas you can build upon later. Start the day with your office look by pairing the Double Keyhole Top with the Wide Leg Dress Pant or your favorite work bottoms. Style it with that classic black pump, a great big stud earring and your hair loose and wavy. Your normal Wednesday look but with a little more spunk.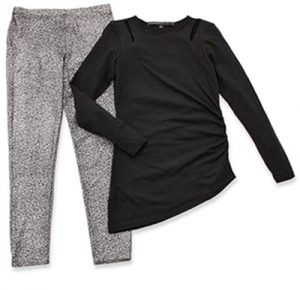 To prepare for the evening's festivities, pack a hair tie, some hairspray and a holiday party-worthy bottom. The consistent piece is the Double Keyhole Top. Keep that one and do some swap-a-roos. We have two suggestions here for swoon-worthy bottoms depending on the environment. The first is to find a great evening legging- one with a little Lurex (shiny thread) in the fabric to add that little sparkle. This one is from Macys and it's non-maternity, but has a loose elastic waist giving room to sit below the belly. Wearing a great legging keeps you a little more comfortable after work as the day gets long.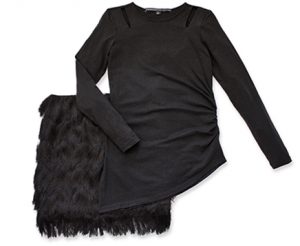 The other option calls for wearing the Double Keyhole Top paired with a fringe or feather skirt. Don't be too concerned finding a maternity variety one, just search for one with an elastic waist. The feathers give a chic 20's vibe that's very on-trend right now and dresses up the top with ease. If you can stand it, keep your black pumps on. If not, pack a pair of black ballet flats. No one can judge. You're pregnant! Pull your hair into a messy pony with your pre-packed hair accessories and you're ready to party. Party until 8pm that is, when you get too tired to dance on. And, remember to always #growinstyle throughout the holiday season.